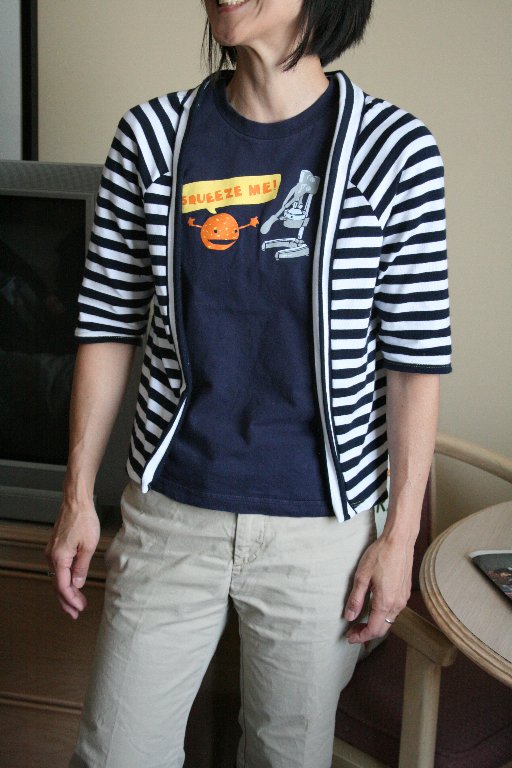 So I'm back from Canada, ey! Didja miss me? A couple of important things I learned up north: the BC Ferries have excellent soft serve ice cream (dense and fluffy at the same time), and the cafes have "americano mistos" (one place referred to it as an "africano"). Why don't they have americano mistos here? Or maybe I am the dummy because I should just request it that way?
Anyway, behold the shruggy dealie thing I made with inexpensive, super stretchy, cotton-poly knit from the Fabric Depot outdoor sale. I downloaded the free pattern from Japanese web site Polka Drops. It was interesting to sew, since there are only 3 pattern pieces: the front & back are one piece, the sleeves are another, then the banding is the final piece. I couldn't quite decipher the instructions, but the pieces fit together pretty easily. Since this fabric is very stretchy and droopy, I was very happy to have my serger and cover lock machines. I did not, as you can tell, get all anal crazy about matching stripes or anything.
When I first tried it on, I was all, what is up with this thing not closing in the front, but then I realized it is supposed to nest delicately on the tips of my shoulders, so I just embraced it. The shruggy cardi is actually very comfortable and provides just the right amount of warmth on a coolish summer evening. For realz.