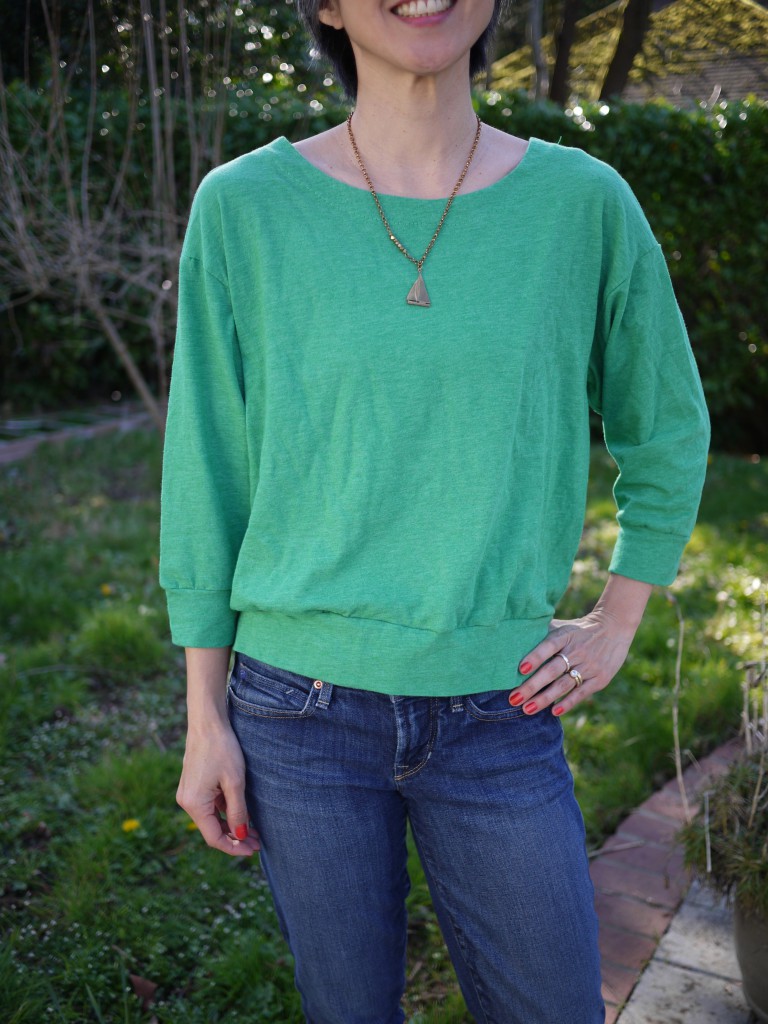 I made a shirt for St. Patrick's Day! Actually, that is a lie. It is just a coincidence that I sewed a green t-shirt. I had this fabric in my stash. I think I got it at the Fabric Depot outdoor sale, but I can't remember. Anyway, it is very soft and lightweight and was thus a bit of a pain to sew, but I didn't let that stop me.
This style is new to me. I usually don't wear dolman or super drapey sleeves (not on purpose, anyway), and I definitely don't wear tops with gaping neck holes. That's mostly because my neck is usually cold. I wear turtlenecks pretty much every day all winter, not as a fashion statement but because my neck is frozen. Anyway, this neckline is pretty huge. If I make any hasty moves the top could easily slip off a shoulder Flashdance style. I haven't tested that out, though. It's still too cold to wear this thing.
So, the pattern is Heather from Tamanegi Kobo. I have ordered patterns from them before, and I love them! You print the PDF pattern out and tape all the pieces together. The sizes seem to fit me well, and I rarely have to make adjustments (though I will probably make the neck hole smaller on this one and make another one). This one was very easy and straightforward to sew and didn't take long to whip out.