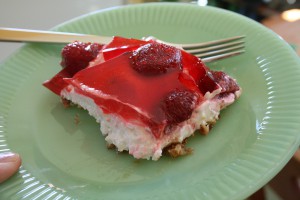 Hey, so let's give this WordPress deal a try! I've been using Movable Type for eons, much to my brother's dismay, so when I got more than 100 spam comments on one post over the weekend, he decided enough was enough and switched me to WordPress.
I think Jell-O and Cool Whip are an excellent way to celebrate this inaugural WP post, don't you? A friend of mine mentioned something about pretzels and Jell-O the other day, and I haven't been able to stop thinking about it. She sent me the recipe, and that was the end. I am mad about Cool Whip. Seriously. I could eat containers and containers of the stuff.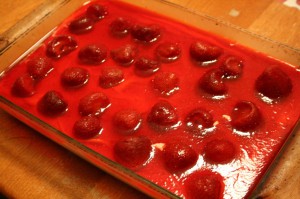 Here's the recipe:
Pretzel Jell-O Cake (from cooks.com)
1 c. pretzels, crushed
2 or 3 Tbsp. sugar
1 stick butter (I only used 1/2 stick. 1 whole stick seemed excessive, even to me)
1 8-oz. package of cream cheese, room temp (I used the low-fat neufwhatever stuff)
1 small container of Cool Whip (I used the store brand. I've also heard the fat-free stuff is perfectly fine)
1 cup sugar
1 6-oz. package of strawberry Jell-O
2 cups boiling water
1 large package of frozen strawberries (do NOT thaw)
Mix together the crushed pretzels, sugar, and butter (I softened the butter in the microwave first). Spread evenly on the bottom of a 9×13 pan. Bake at 350 degrees for 10 minutes. Cool.
In a separate bowl, whip the cream cheese and sugar together until light and fluffy. Blend in the Cool Whip. Spread this delightful concoction over the cooled crust.
In yet another bowl, stir together the Jell-O and the boiling water. Add the frozen strawberries and stir until the strawberries are thawed. Pour over the whipped stuff and chill in the fridge.