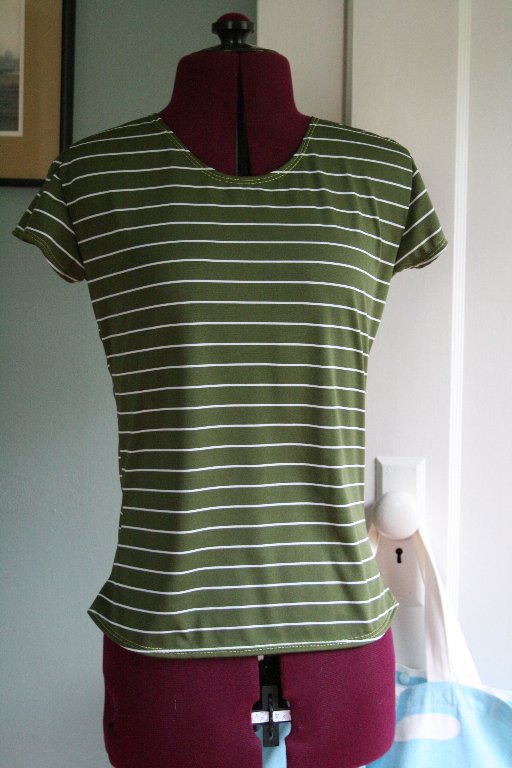 I have been working for some time on achieving the perfect running shirt pattern. So far I have made at least a dozen running shirts, and none of them are perfect. It has gotten to the point where I am not quite sure what the perfect running shirt would even be, since it varies according to my mood or the weather.
What I do know is that I like a short little sleeve, and I don't like a gaping neck. I like having extra room by my armpit so I can freely swing my arms and not get chafed in the pit. This is where the running shirt varies from a regular T-shirt. Now, in the striped example above, the sleeves were a little too big and fluttery, and the shirt just a smidge more slim than I like. Still, it's very comfy for running.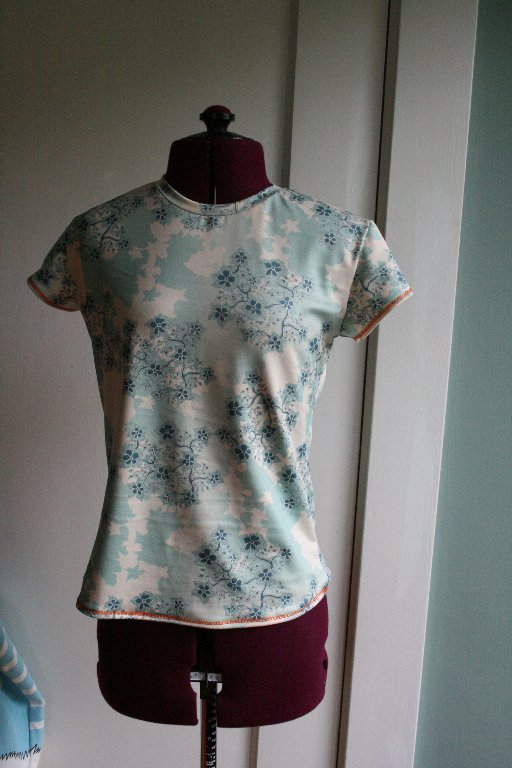 So then I just made this flowery one. I like the fit quite a bit except once again the sleeves kind of wing out. Also, the armhole looks kind of huge, but the shirt itself is comfortable. I think the next modification will be to lower the neckline just a hair and try to de-wingify the sleeve. It's a good thing I have a lot of wicking jersey knits in my stash.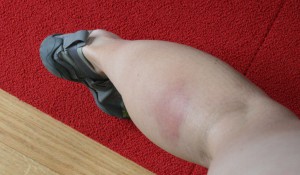 It's been several days now since the unknown assailant stung me on the trails. I don't know if you can tell from the photo, but there is a large, red welt on my calf. It hurt like the dickens the first day, then it started itching like crazy. It still itches and is still hot and raised. It is gross, and it is not like my calf needs to look any bigger than it already is. A friend warned me to make sure it doesn't get any larger; otherwise, it could be cellulitis or, I don't know, a flesh-eating infection.