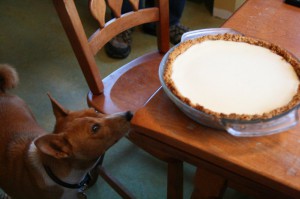 It was Peter's birthday the other day, which means we had to have cream cheese pie. I don't know how many years ago his mother started making cream cheese pie, but it's been Peter's favorite pie ever since he can remember. It's a good choice, too, because it is delicious–smooth and creamy and luscious.
The thing with cream cheese pie is it's a crowdpleaser. I have not met a single person who does not like cream cheese pie (well, maybe Frenchie, but she does not like cream cheese frosting, so clearly there is something wrong with her to begin with). It's simple to make, and it keeps. In fact, the secret is it gets better with age. It is the perfect after-school snack, for days and days.
CREAM CHEESE PIE
Crust:
1 package graham crackers (there are usually, what, 3 packages per box?)
1/2 stick butter at room temp
Filling:
12 ounces cream cheese, softened and whipped (I often "cheat" and use one brick of regular cream cheese and half a brick of the low-fat stuff)
2 eggs, beaten
3/4 cup sugar
2 tsp vanilla extract
1/2 tsp lemon juice
Topping:
1 cup sour cream
3 1/2 tablespoons sugar
1 tsp vanilla
First make the crust. Here's my method: crush the graham crackers (I break the crackers up into pieces, put them into a ziploc baggie, then gently whack and roll with a rolling pin. I leave a little bit of the baggie unsealed so it doesn't pop and explode). Dump the crumbs into a 9″ pie dish. Plop the softened butter into the crumbs, then smush together with your fingers (I wear surgical gloves. Really) until it holds together. Press along the sides and bottom of the dish.
For the filling, combine all the ingredients, but make sure you have whipped the cream cheese until light before you add everything else. Beat the mixture until light, then pour into the prepared crust. Bake at 350F for 15-20 minutes. Leave the oven on but take the pie out and let it sit for about 10 minutes. In the meantime, make the topping by combining the ingredients. Gently plop the topping onto the pie by the spoonful. Spread evenly. Bake an additional 10 minutes. Cool then refrigerate about 5 hours.