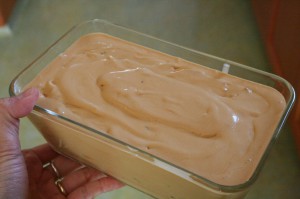 Okay, so this isn't the best photo, but I am telling you, if hearing "salted butter caramel ice cream" makes you start to drool, and you have an ice cream maker, you really need to try this.
David Lebovitz, in case you don't know, is pretty much a genius when it comes to anything sweet, so when I landed upon his recipe when searching for salted caramel ice cream recipes, I knew I had to try it, even though it was more involved than other recipes I found.
When I first tasted it, I thought, okay, super good and very intense, but I don't know if I would make it again. It was almost TOO intense. But then, after a couple days, I tried it again, and hello, the flavors had time to develop and smooth out, and oh yeah, I would TOTES make this again. And again. And I don't care how sweaty I get making it.