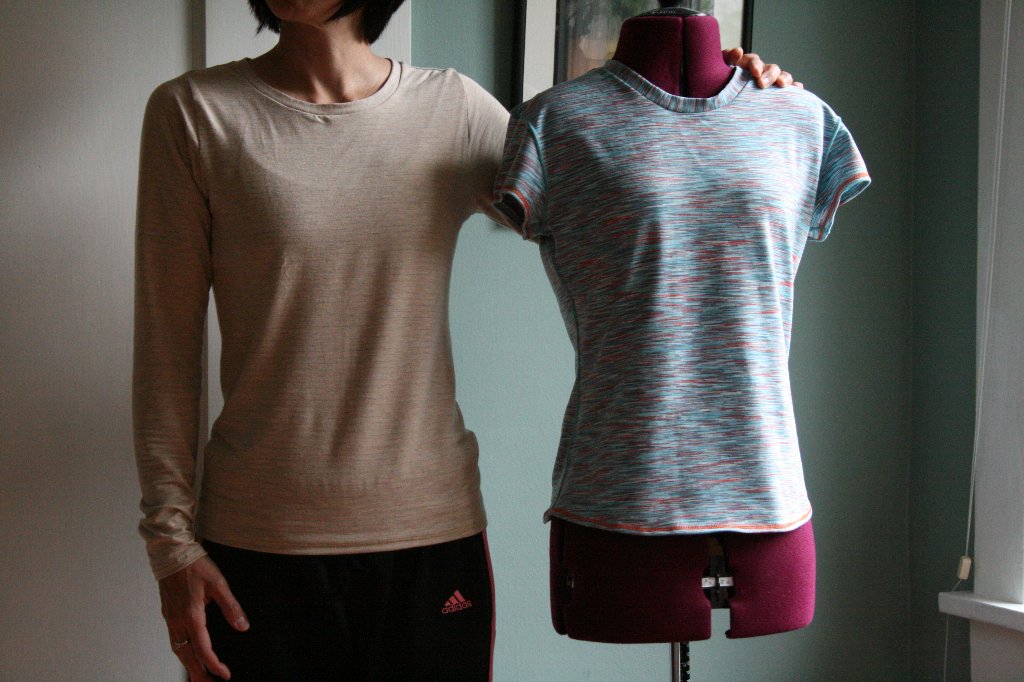 Okay, so I didn't even bother to put on actual pants for this photo. It was one of those days. I was anxious to get some sewing in because I hadn't been at my machines for a while. Needless to say, it turned out to be a Bad Sewing Day where things did not go very smoothly, and if I could have selected a third appendage it would have been a seam ripper.
But, let's not focus on the negative. The plus is I did manage to finish two slightly mangled yet still wearable t-shirts. The one on the left is made of a rayon knit that I picked up at Bolt some time ago. It is drapey and hefty, so I was somewhat concerned it would pull at the seams, but it's actually super comfortable. I know you can see the outline of my bra, but I don't really care. I used the pattern from Tamanegi Kobo, which I discussed in this post. I used the size M instead of S, and I have to say that I prefer the M. It provides a bit more ease, which makes it more comfortable.
The other shirt is yet another running shirt. The fabric is from Rose City Textiles and is a buttery-soft wicking jersey. I tried to make a less fluttery sleeve, but to be honest, I haven't even tried the shirt on yet, so I don't know how successful I was. Aren't I informative?