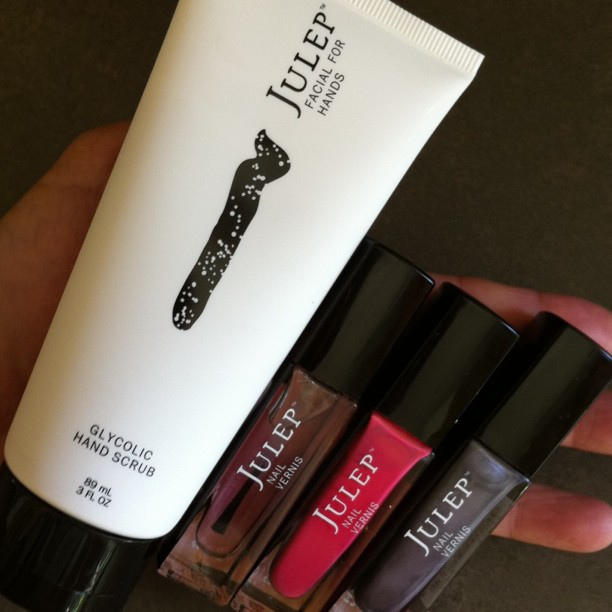 Some of you know I am a sucker for these "x-of-the-month" things. I just discovered one that plays right into my recent obsession with nail polish. Woohoo! Julep is a Seattle company that has several nail parlors and creates their own line of nail polishes and such. They just introduced a "nail polish of the month" sort of club called Maven. For $19.99 a month you get more than $40 worth of stuff (including, I am guessing, at least one nail polish, which retails for $14 a bottle). Now, I'm not such a sucker that I get duped (well, except at Panda Express. They always trick me somehow, but I guess that's another story), so here's why Maven strikes me as a good deal:
– First, after your initial introductory box, you get an e-mail that shows you what you're going to get in your upcoming shipment. If you don't like what's in it, you can request a different selection
– If you're all loaded up and don't want a shipment, you can either skip the month OR have your shipment sent to someone else as a gift
– The $19.99 includes shipping
I was already somewhat familiar with Julep before I heard about the Maven program. I have several of their nail polishes and really like them. The formula is good (pretty thick with good pigment, except for a super pale pink I have, but I have issues with all pale pinks, I think). You don't get as much polish in a bottle as a standard bottle, but that doesn't bother me. The bottles are a cute shape, but they are a little awkward, since they are tall.
Okay, so in the photo you can see what I got in my FIRST box. When you sign up you have to take this fun questionnaire so they can decide what type of Maven you are. I was "American Beauty" (yeah, go ahead and laugh!). I think this is because I selected pretty conventional styles in the questionnaire. I tend to prefer wacky colors, but so far I have liked the nail polish colors associated with American Beauty. Anyway, the box had two nail polish colors, a base coat, and a glycolic hand scrub, all in regular sizes. I was able to get this all for $10 because I found a code online for half off (use code TWITTER). I don't know if the code still works, but give it a try! If you use this link to sign up, I get referral credit, but don't feel obligated to use it.
Julep seems like a very fun and cool company, and I actually feel like I am kind of ripping them off by joining this club, since it really is a good deal. That said, I do not feel guilty enough to stop my membership!